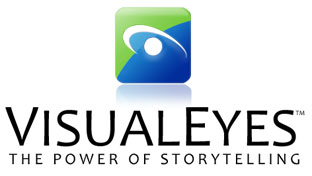 VISUAL EYES INC. (VE) is a premier provider of Strategic Communications, Enterprise Knowledge and Online / Mobile Learning. Founded in 1985, VISUAL EYES has an unmatched reputation for helping national and global companies, the U.S. Department of Defense and U.S. federal agencies, tell their story where it matters most today - online and the mobile web. VISUAL EYES embraces the proven power of storytelling to inspire hearts and minds wherever they may be: across the enterprise, in the marketplace, on the road, at home, and in the theater of operations. Core competencies are focused on enterprise training and marketing solutions on the web and mobile web for the healthcare, science and advanced technology sectors.
VISUAL EYES developed Emotive Storytelling™ and the iSTORY™ Knowledge Platform to meet today's expectation for dynamic marketing, training and learning in a rapidly emerging mobile world. These innovative services and technologies engage attention and enlighten audiences on any concept, process, product or service. Emotive Storytelling uniquely combines interactive media, advanced learning science and best business practices to create a highly effective experience that shortens the path to understanding, inspires action and enhances productivity. iSTORY is an exciting interactive environment for delivering knowledge on the web, PC or MAC, iPhone, iPad, and other mobile platforms e.g. Android. With iSTORY, audiences engage rich content how they want it, when they want it, no matter where they are.
VISUAL EYES is well-differentiated by proven history, expertise, capabilities, technology and by a high-value, end-to-end enterprise solution for designing, producing and delivering media-driven knowledge in a form desired by today's generation. The company excels in addressing complex challenges and generating exceptional results while relentlessly striving to exceed client expectations in affordability, quality and on-time delivery.
Services
Branding Strategy
Instructional Design
Integrated Media
Social Media
Mobile Apps